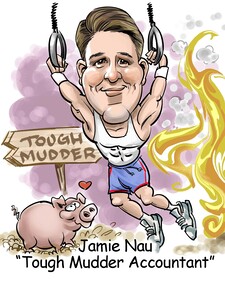 As a distributed company, not only do we serve our clients remotely but our team members work remotely as well. We understand the accounting, bookkeeping, cash flow management, and tax nuances of running a distributed company. We pride ourselves on our ability to provide the highest quality Virtual CFO services and 401(k) Audits while working remotely with (and for) our customers, and we couldn't do any of it without our amazing team.

Every month we spotlight one of our employees so you can get to know us better.

This month we bring you: Jamie Nau.


What's your role at SCPA? How long?
I have worked at Summit for just over 3 years. I am currently the Director of Accounting. I also still serve several clients as a Virtual CFO.
How has Summit CPA Group helped you in your career development?
Working at Summit has really moved me into a role that I have always wanted. I didn't choose to study accounting because I loved numbers or accounting. I always loved business and figured if I understood finance and accounting I would always have a place in the business world. Now I get to work closely with businesses every day!
If Hollywood made a movie about your life, who would you like to see cast as you?
This is a tough one to answer! Of course, I am going to pick a good looking actor. I would want someone who can be an action star but also handle comedy. I guess Matt Damon. Also, he is a Boston sports fan, so that helps!
If you could be from any time period, which would it be and why?
Every time I am asked this question, I can't get past all the advancements we have made. I really appreciate air conditioning, indoor plumbing, airplanes, safer cars, etc.
What would you do (for a career) if you weren't doing this?
I really enjoy working with kids and think I am pretty good at it. I would probably be a teacher or a basketball coach.
You're happiest when?
I am overall a very happy person. I have so much to be grateful for! I recently fell back in love with basketball. I always look forward to the next time I get to play, coach, or watch basketball.
What's your go-to karaoke song?
Karaoke is not my thing! I enjoy watching it, but it would take a lot to make me grab the microphone!
Describe your typical workday.
One of the reasons I love working at Summit is because there is no such thing as a typical day! I spend a lot of time answering questions from my clients and the employees at Summit. A lot of the questions take research and spreadsheets with calculations to get a good answer.
If you could start all over again, would you change your career path in any way? Why?
No way! I have learned something at every job I have ever had and am so happy at where I am now. I am not sure other paths would have taken me here.
What professional journals and organizations are your favs?
I would say the areas I follow most are podcasts. I am always looking for new accounting and business orientated podcasts to listen to. Tim Ferriss, JetPack Workflow's "Growing Your Firm", "Masters of Scale" to name a few.
Want to work for one of the top 100 remote companies? Visit our career opportunities page.