Have you found yourself dreading your weekly business meetings? Can you see that look of boredom on everyone's face? Or maybe you find yourself thinking about all the work you could get done if you weren't in the meeting. If this describes your meetings, maybe you need to find a way to perk up your meetings and engage those at the meeting in a more focused and productive way. Below are some suggestions to help make your meetings more efficient.
• Assess the situation. What works and what doesn't? Make a list of ways to have a more productive and focused meeting.
• The agenda. Circulate the meeting agenda in advance of your meeting. If you hold meetings remotely with employees you can send them an email in advance. An advanced copy of the agenda will allow employees to have notes ready when it's time for the meeting. Stress the importance of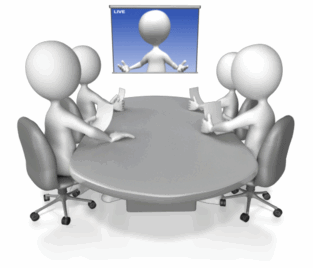 being on time and ready to participate in the meeting. Even if you have a set agenda, be ready to switch things around if someone comes up with a great idea. If you need to, you can always revisit other topics at a different time.
• Ground rules. Set ground rules for the meetings. You don't want those in the meeting shopping or playing games online while you're trying to conduct business, so you need a disciplined meeting. Turn off cell phones and any other distractions until the meeting is over. However, your meetings don't have to be dull; you can reduce a lot of stress if you throw in a little humor now and then too.
• Change up the format. Instead of the usual ho hum meetings, mix things up a bit. Your meetings are valuable personal and organizational development opportunities. Try to resolve issues by involving those attending the meeting. Determine what actions to take on issues and assign action steps to resolve the problems.
• Recap. Take time to praise and reward good performance. Ask for feedback by discussing past issues so that you can improve future meetings. You can handle routine meeting updates via emails or memos.
• Know when to stop. Set a time frame for your meeting, 30 minutes or an hour. End on a good note by reinforcing a common bond and move forward from there.
Your meetings don't have to be dull and boring. Encourage participation so that your meetings are more enjoyable. At Summit CPA we have multiple resources to get your business on the right track. For more tips, contact our office at (866) 497-9761.