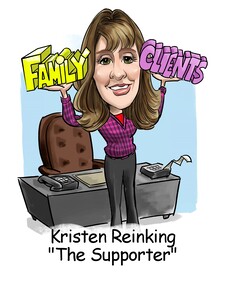 As a distributed company, not only do we serve our clients remotely but our team members work remotely as well. We understand the accounting, bookkeeping, cash flow management, and tax nuances of running a distributed company. We pride ourselves on our ability to provide the highest quality Virtual CFO services and 401(k) Audits while working remotely with (and for) our customers, and we couldn't do any of it without our amazing team.

Every month we spotlight one of our employees so you can get to know us better.

This month we bring you: Kristen Reinking
What's your role at Summit CPA Group? How long have you been there?
I'm a Virtual CFO, and I've been with Summit for three and a half years.

How did you get your start?
I've dabbled in operations and finance in past lives. My role at the company I worked with 18 years prior to Summit really focused on helping make clients more successful. That experience translated quite well into my role here as VCFO.

What advice would you give to recent new hires?
The world has changed so much and we must change with the times. I would highly advise reading. The books that the VCFOs here at Summit regularly read really focus on the same tips: listening to co-workers, being open, living the core values, offering value, being adaptive, and collaborating. Dare to Lead by Brené Brown is the book we are reading now—it's a good book for CFOs.

Do you prefer white, dark, or milk chocolate?
Every year my parents still get a white chocolate bunny for Easter.

What are three career lessons you've learned thus far?
a. Don't be afraid to make a decision. Doing something and learning from a mistake (if you were wrong) always outweighs doing nothing at all.
b. Be brave.
c. Genuinely care about others. This makes life much more fulfilling and rewarding.

What color is your home office?
My home office is actually my proper dining room. It's a sand color and really ties in with rest of my home.

If you could be on any tv game show, which one would you choose?
The Price is Right—back in the Bob Barker days.

What's the one thing you've waited in line for the longest?
The Toy Story ride at Disney. I waited 80 minutes in the sun.

What's your proudest moment at Summit?
My happiness and pride starts with my clients. That's meaningful to me—helping my clients.

What are the keys to developing the next generation of leaders in this industry?
Read the books and learn how to lead. You need a team, you need to care about them personally, listen to them, and have candid conversations. Developing a team is key. Start with the basics, like relationships. Get the buy-in, establish trust, and have those open, candid communications. And always be caring.
Want to work for one of the top 100 remote companies? Visit our career opportunities page