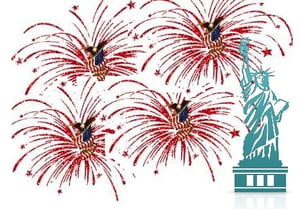 Two-hundred and forty-four years ago, on July 4, 1776 the Declaration of Independence, drafted by Thomas Jefferson, was adopted by the colonies as a symbol of liberty and independence from England.
Included in the declaration was a list of grievances and self-evident truths against the King of England to justify cutting ties between the Mother Country of England and the colonies.
Since that time, we've grown to 50 states, a federal district, and 5 self-governing territories. The population has grown from a few hundred to an estimated 332,865,306 people as of January 1, 2020.
Each year most of us celebrate this holiday by having a get together with the family and friends for a cookout, maybe catch a parade, and later watch the fireworks. However, this year things will be a little different. Many parades and fireworks will be canceled to prevent large gathering due to the COVID-19. But, as long as we all take precautions, we can still have smaller, safe gatherings.
As you celebrate America's 244th Birthday, take a moment to remember the true reason we celebrate this day. Thank a Veteran, because as the saying goes, "we are the land of the free because of the brave".

The Staff at Summit CPA wishes everyone a safe and fun filled holiday surrounded by your family and friends.