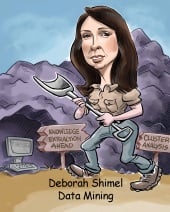 As a distributed company, not only do we serve our clients remotely but our team members work remotely as well. We understand the accounting, bookkeeping, cash flow management, and tax nuances of running a distributed company. We pride ourselves on our ability to provide the highest quality Virtual CFO services and 401(k) Audits while working remotely with (and for) our customers, and we couldn't do any of it without our amazing team.

Every month we spotlight one of our employees so you can get to know us better.

This month we bring you: Deb Shimel
1. What is your role at SCPA? How long have you been at SCPA?
I'm the IT Manager at Summit and I've been here almost six years, a fast six years.

2. Where was your first flight? What do you remember about it?
I flew to Dallas via Chicago. I remember the first plane from Fort Wayne to Chicago was very small. I was happy to get on the bigger plane from Chicago to Dallas.

3. Are there any projects you'd really like to work on if you were given the opportunity?
I would really love to tap the potential of Power BI (Business Information).


4. Tell me about the last gift you received?
I received a lovely charm bracelet from my daughter-in-law. It was a nice, thoughtful gift she gave me when she married my son. I have to mention my favorite gift from my husband, a remote car starter. The best gift ever with the cold weather we have here in Indiana.

5. What is the funniest thing that has happened to you recently?
Jody (our CEO) cracking me up. He is so funny.
6. Favorite line from a movie?
It's so hard to choose, but a couple that come to mind are:
Steel Magnolias: "It looks like two pigs fighting under a blanket."
Fried Green Tomatoes: "Face it honey, I'm older and I have more insurance."
7. What aspect of your role do you enjoy the most?
The people. I really enjoy getting to work with everyone in the company. I like feeling like part of a team. It's enjoyable getting to know people—and, of course, adding value.
8. What is your greatest achievement outside of work?
My son. He is such a great person and I am so proud of him.

9. If you could pick one theme for SCPA to turn into a book about the company, what would it be?
Being a big Star Trek fan, I'd borrow from their mission statement, "to boldly go where no accountant has gone before."

10. What's your secret talent?
Hmm, I don't think I have any special talents, but I'm pretty good at being able to identify people by their voices, if that counts as a talent.
Want to work for one of the top 100 remote companies? Visit our career opportunities page.