Have you looked over your insurance policies lately? Have there been any changes in your needs? Do you have sufficient coverage? What about your beneficiaries? An annual review of your insurance policies makes good financial sense. Here is a list of the various insurance policies that you should review annually.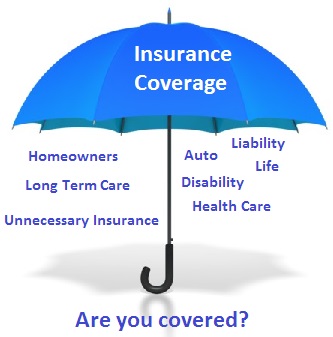 * Homeowners. It's possible that your home is now under or over insured. With fluctuations in the real estate market, coverage equal to the current replacement cost (excluding land), is advisable.
* Auto. If your auto is financed or leased collision insurance is probably required. Although liability insurance is a necessity, dropping collision coverage is an option if you can afford to replace or repair your own vehicle.
* Umbrella liability. If you own substantial assets, umbrella coverage will provide additional protection at minimal cost.
* Life. Whole, variable, and universal life policies combine insurance coverage with an investment future. If you want insurance only, consider term life. The protection you will need depends on the number of people who rely on you for support.
* Long-term care. If you're between the ages of 55 and 72 and you don't have enough assets to fund long-term care, long-term care insurance may be advisable.
* Disability. Disability coverage is generally limited to 60%-70% of salaried income. If you have adequate emergency funds, electing a longer waiting period for coverage to kick in will reduce your premiums.
* Health care. If you have an individual policy don't be afraid to be on the lookout for a better cost. Are you a member of a union or professional association? What about an employer? Group policies tend to be less expensive.
* Unnecessary insurance. Avoid policies with narrowly defined coverage (such as credit, travel, or cancer insurance) if they duplicate other coverage.
For more tips and assistance contact us at (866) 497-9761 to schedule an appointment with our advisors.