Do you know how to record your vendor refund/ credit in your QuickBooks online?
As a business that works with multiple vendors you're likely used to paying your vendors after you receive a bill or an invoice for a purchase. However, there may be times that your vendor owes your business money. Perhaps you returned a product due to damage or your received the wrong produce and you are due a refund. Or maybe the vendor offers a rebate on an item that you purchased.
If you receive a rebate or refund you will need to enter a "Vendor Credit" in the QuickBooks Online. The credit will then be applied the next time you make a purchase from this vendor. Generally, entering a vendor credit simple but once in a while a situation may arise and you are not sure how to accurately record a vendor's credit. When this happens here are some simple steps to follow.
For example; you ordered a shipment of pens for your sales people to use as promotional items. Some of the pens are defective or have the wrong information on them. Your supplier gave you a $50.00 credit on a future purchase and a reference number to use.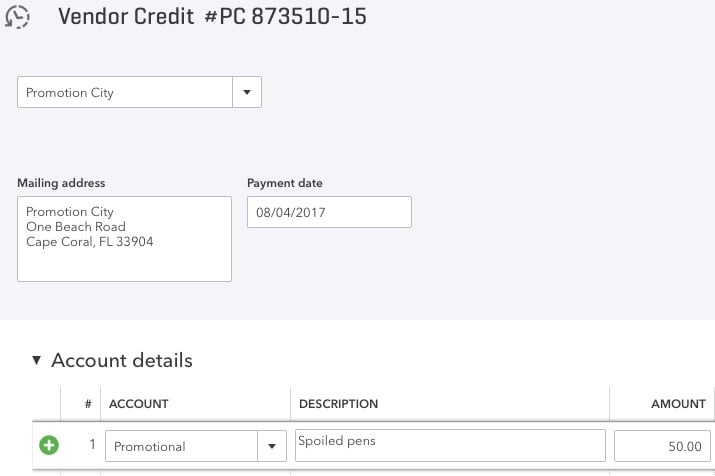 It's easy to complete a Vendor Credit form in QuickBooks Online for a simple credit. But other situations are more complicated.
This is how it works. Click the + (plus) sign located in the upper right corner of the screen. Then select Vendors | Vendor Credit. A screen like the one pictured above would appear. You will need to complete these fields.
Vendor – Click the down arrow in the field in the upper left corner and select the correct vendor, or + Add New.
Payment date – If necessary, change the default date to the correct date.
Ref no. – If applicable, enter a reference number.
Under Account details, click in the field under Account, click the down arrow on the right to open the drop-down list. Select the account that was used when you created the original expense. Enter a Description and the Amount of the credit.
You will be able to add a Memo in the box at the bottom of the screen, and select any Attachments to include from your file directories. Or, click Save and close or Save and new.
There may be Additional Input needed. There's much more to the Vendor Credit screen that you didn't need to consider for this example. In the row where you entered Account, Description, and Amount there are several additional fields that you may need to complete in certain situations. They are Billable, Markup %, Tax, Customer, and Class.
In another section under Account Details that you may need to address is: Item Details (click the arrow to open if necessary). You would only enter information here if you're returning items to a vendor. Fields displayed there include Product/Service, Qty (quantity), Rate, and Sales Amt (amount).
What if you forget to redeem your credit? QuickBooks Online reminds you to use it.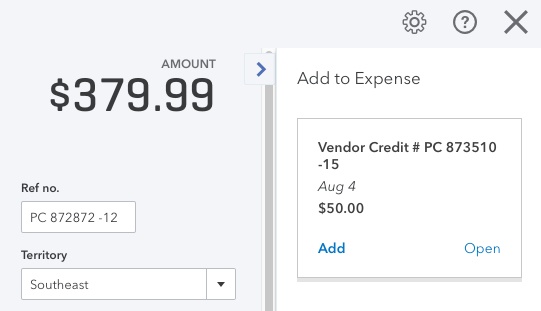 QuickBooks Online records your Vendor Credits and reminds you that they're there when you go to pay that vendor again.
The next time a transaction that involves sending that vendor money, you'll see a record of that credit to the right of the Check or Expense screen, for example. In the image above, a small box has opened as soon as the vendor's name was selected. You can Add that credit to the current transaction or Open it if you want to see the original screen.
Not everyone uses Vendor Credits. Some businesses find workarounds. However, it's recommend you have a general understanding about when and how they're used so your bookkeeping is accurate and precise.
At Summit CPA we offer QuickBooks consultation. If you would like further information we can assist you with your bookkeeping needs, contact our office at 866-497-9761 to schedule an appointment with our Virtual CFO.