The Virtual CPA Success Show: Episode 64
How many times have you heard the cliché "change is inevitable"? Probably more than you can ever count, though quite overused it is a truth we cannot deny. A lot of things are changing around the world, within our organizations, and even in our personal lives, that's why learning how to deal with change is an important skill everyone should have. In this episode, Jamie Nau, our host and Summit CPA's Director of Accounting, sits down with Jody Grunden, Partner at Anders CPAs + Advisors, and Douglas Ferguson, President of Voltage Control. Voltage Control is a change agency that assists businesses in igniting, accelerating, and strengthening innovation. Douglas talks about managing change in an organization and shares his experience working with businesses that we all can learn from so we can thrive in a constantly changing environment.
Episode Notes:
"I think a lot of it has to be started through exploration because if we don't start with a mindset around exploration and learning...If we're just changing for the sake of changing, then we really, we're not coming from an informed perspective." - Douglas Ferguson

The finer details of this episode:
The mindset and behavior that is essential to change management in an organization
What do businesses need to do? What strategies should they put in place?
How important is having a culture of curiosity?
How should change management change as a company gets larger?

Episode resources: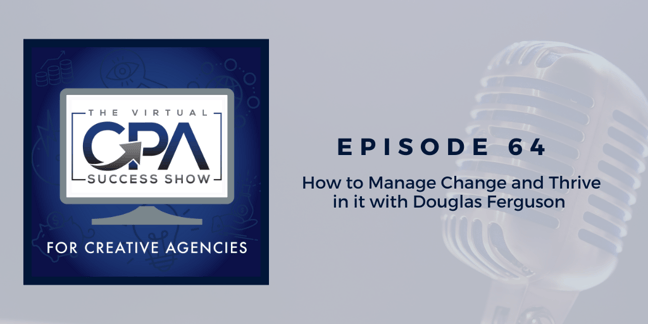 Share this podcast episode on Twitter:
The Virtual CPA Success Show for Creative Agencies 🎙️ by @SummitCPAGroup:
Episode 64 - How to Manage Change and Thrive In It 👉 https://ctt.ec/67qOe+
---
Want to listen to more Summit CPA podcasts?