The Affordable Care Act (ACA) is a massive and complicated law intended to provide affordable, quality health care for every American. How does this law affect your business? The law requires large companies to provide health insurance for their employees beginning 2015. Those who fail to do so will face penalties. However, not every business will be affected by the new law. Below is how the new law may affect your business. If your business has:
* Less than 25 employees. Small companies that pay at least 50% of the health insurance
premiums for their employees may be eligible for a tax credit for as much as 35% of the cost of the premiums. To qualify, the business must employ fewer than 25 full-time people with average wages of less than $50,000. For 2014, the maximum credit increases to 50% of the premiums the company pays, though to qualify for the credit, the insurance must be purchased through the Small Business Health Options Program (SHOP).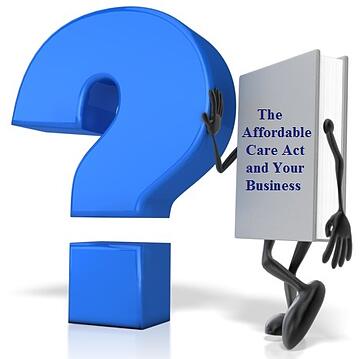 * Less than 50 employees. Companies with fewer than 50 employees are encouraged to provide insurance for their employees, but there are no penalties for failing to do so. A special
marketplace will be available for businesses with 50 or fewer employees, allowing them to buy health insurance through the Small Business Health Options Program (SHOP).
* 50 or more employees. For companies with 50 or more full-time employees, the requirement to provide "affordable, minimum essential coverage" to employees has been delayed for one year and is not required until 2015. Originally, employers had been required to file information returns that reported details about the health insurance they provided, with penalties to apply if the insurance did not meet standards. Companies complained that they needed more time to meet the reporting obligations, and in response the IRS made the reporting requirement optional for 2014. Without the reporting, the IRS could not determine penalties, so the penalties also were postponed for a year.
The IRS is encouraging companies to comply in 2014 even though there are no penalties for failure to do so.
* The play or pay penalty. Starting in 2015, companies with 50 or more employees that don't offer minimum essential health insurance face an annual penalty of $2,000 times the number of full-time employees over a 30-employee threshold. If the insurance that is offered is considered unaffordable (it exceeds 9.5% of family income), the company may be assessed a $3,000 per-employee penalty. These penalties apply only if one or more of the company's employees buy insurance from an exchange and qualify for a federal credit to offset the cost of the premiums.
For more answers about the Affordable Care Act visit the government website at www.healthcare.org or call 1-800-318-2596.
For all your financial needs contact our office at (260) 497-9761 to schedule an appointment with our tax advisors.