Today is Thanksgiving, a holiday that began many years ago when the Indians and the Pilgrims gathered together for a feast in celebration of a good harvest. Though, it wasn't until December 26, 1941, that it officially became a federal holiday that would be celebrated on the fourth Thursday of November each year.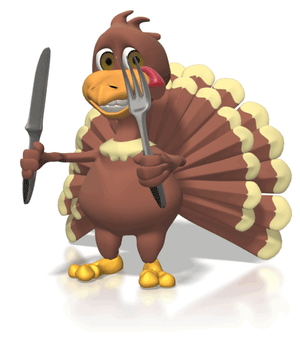 These days most of us won't have a harvest of crops, but we are still thankful for those who harvest our food and raise those tasty turkeys. Let's not forget all those great cooks who spent hours cooking those delicious meals so we can all sit around and reminisce about the good old days. Of course, the cooks will be thankful for the clean-up crew.
After the clean-up is done, the kids will be off to play, the men folk will sit back and relax while watching football games. The women folk will be checking the sales papers and plotting a route for the doorbuster specials on Black Friday.
But wait!! We don't have to wait until Friday at 4 a.m. Many of the retail stores will be open for business before your turkey dinner has a chance to digest. So get your running shoes on and start practicing your "bob-n-weave" techniques. Just think of all the calories you'll burn off as you race through the stores for that big screen TV or that Xbox, etc.
Don't forget to be nice to the many retail employees that will be giving up time with their own families so that shoppers can make that mad dash to get the Super Turkey Day "after dinner" deals.
The staff of Summit CPA would like to wish everyone a safe and Happy Thanksgiving.

Our office will be closed November 22-23 so that our staff can spend some quality time with their families. For assistance you may contact our office at (866) 497-9761. Leave a message and we will return your call as soon as possible.