Thanksgiving is a great time to give thanks for all of your blessings as you gather with family and friends to enjoy good company and great food.
Some of you may remember a time when you were little, and the whole family would pack into the old station wagon and head off to Grandma's house for Thanksgiving dinner. Whereas, these days families are spread throughout the country. So to be together, the whole family packs into the SUV and makes a mad dash to the airport to be on time for that long wait in the long security lines so that you can fly to Grandma's for dinner. One can only hope that the flights won't be delayed. If you're driving, expect the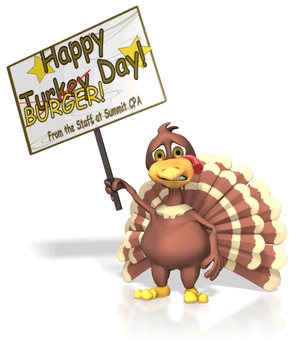 roads to be very busy too, so give yourself plenty of time to get to your destination safely. That great smell and warm welcome upon arrival make it all worthwhile.
In most homes, you can still find the traditional "adult" and "kiddie" tables. Everyone has memories of "the kiddie table" right? All the strange noises and food fights, and that's just the adult table.
After that wonderful dinner is over, the guys usually drift off into the living room, unbutton that top button on the pants for breathing room and watch the games on the big screen TV. The women are off to clear away the dishes and catch up on the latest news of what's going on with everyone and make plans to hit all the big Black Friday sales. FYI: Don't forget you will have 6 fewer shopping days this year.
Today is also a great time to take those timeless, funny family photos. We all have photos of someone who is not looking, getting bunny ears, or just acting goofy. There is always someone who gives you the "hand" to avoid the camera. Some of you may remember the days when you had to wait a week for the photos to be developed only to find that you took a lot of pictures of people with no heads on them? Sometimes it was anyone's guess who was in those photos. You can be thankful for digital photos these days. Now you can see your photos immediately and delete them if you don't like them before anyone else sees them. A little "photoshop" and editing goes a long way too.
How can you make your holiday gathering fun and relaxed? You can start by leaving your political, religious, and personal opinions at home. Enjoy family time and be thankful for your health, family, friends, and all that great food. In the end, everyone will leave happy, stuffed, and thankful they could be together. It's a lot of work to pull off a great family gathering, so don't forget to thank all the great cooks and hosts too.
Our Summit CPA Group Staff wishes everyone a happy and safe Thanksgiving. Gobble! Gobble!

Our office will be closed today Thursday, November 28th and Friday November 29th so that we can make fond memories with our own families. The office will reopen on Monday, December 2nd. If you need contact us you may leave a message at (866) 497-9761, and we will return your call as soon as possible.