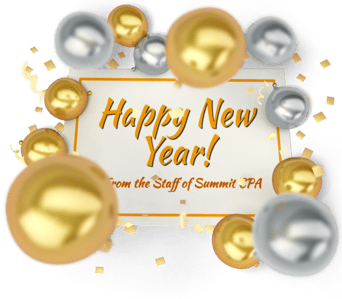 Wow! Another year has just zipped by. Out with the old and in with the new, time to flip that calendar! Isn't it weird that if you're having a good year, time just zips by but, if you're having a bad year, time just drags?
Did you make any New Year resolutions this year? Many of us resolve to go on a diet or hit the gym more often. Or maybe you want to get your finances on track and pay off your debts. The good thing about the start of a new year is that you have the opportunity to hit the reset button. Just remember to set realistic and attainable goals for yourself. If you set your goals to high, you're setting yourself up for failure.
The Staff of Summit CPA wishes everyone a very happy and prosperous New Year!
Our office will be closed today, January 1st, so that we can enjoy the start of the New Year relaxing and watching a game or two while visiting with family and friends. Our office will reopen Wednesday, January 2, 2019. In the meantime, you can contact our office at (866) 497-9761 if you need assistance. Just leave a message and we will get back with you as soon as possible.