As a business owner you know there is a lot of tough competition on just about every product or service on the market. That's why you need to make use of every advantage available to you. One big advantage to set your business apart from others is creating a great customer service for your present and potential customers. To help you get started, here are 4 things to consider.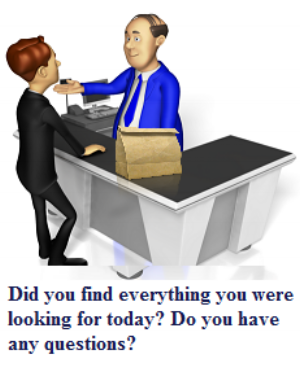 First impressions. First impressions of your business can come in many different ways so look closely at all aspects to make them impressive. For example: Be sure your website looks interesting, is up-to-date, and user friendly. When using social media, be sure you use relevant and timely information. Make sure your customer service personnel are well trained, friendly, and easy to talk too with the ability to assist or solve any issues that may arise. If you're a brick and mortar business, make sure the lobby is clean and organized. Every detail matters. A bad first impression will send your potential customers packing.
Manage outcomes. There are 3 potential results with every customer interaction: positive, negative, or neutral. Some businesses limit the positive by not cross-training their employees. For example: A customer calls you to find out about a new service or product. Customers don't want to hear that the person that handles that issue is not available and no one else is there that can assist them. What you should do is listen to the customer, gather information, and then tell them you will find the answers and call them back in a timely manner with the information they desire.
Useful feedback. There is no doubt that there will be times, that no matter how hard you try to offer the best customer service, there will be less than a favorable outcome. Create a system to gather feedback from your customers to see where you can make improvements. Most customers are happy to give feedback on the service they receive.
Turn the negatives into opportunities. Negative feedback tends to have a huge impact on your business when it's ignored. When you know your strengths and weaknesses you have the opportunity to improve your customer service goals. Utilizing a customer's perspective on your customer service, products, or services, will allow you to make necessary changes to improve your business.
Knowing and understanding the needs of your customers will go a long way. A satisfied customer will not only be a return customer, but when the word gets out about your great customer service, it will soon lead new customers. Just remember, every impression counts.
Are you ready to get an edge on your competitors? At Summit CPA we offer multiple resources and techniques to help you get on the right track to attain your goals. For more information on how we can be of assistance to your company, contact our office at (866) 497-9761 to schedule an appointment with our advisors.