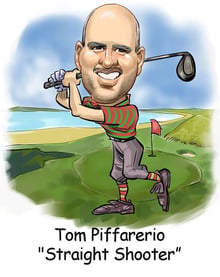 As a distributed company, not only do we serve our clients remotely, but our team members work remotely as well. We understand the accounting, bookkeeping, cash flow management, and tax nuances of running a distributed company. We pride ourselves on our ability to provide the highest quality Virtual CFO services and 401(k) Audits while working remotely with (and for) our customers, and we couldn't do any of it without our amazing team.
Every month we spotlight one of our employees so you can get to know us better.
This month we bring you: Tom Piffarerio. Tom has been with Summit CPA Group for 7 months now. He works on our Virtual CFO team.
Here are 10 things about our March employee spotlight, Tom Piffarerio
What was your least favorite food as a child? Do you still hate it or do you love it now?
Broccoli. Now, I love Broccoli.


What do you enjoy the most about your job?
The various challenges each day presents. Working with the clients, helping them grow their business.


You're going sail around the world, what's the name of your boat?
"LIFO the Party"


Teleportation or flying?
Teleportation would be great. Flying is no fun these days.


Have you ever completed anything on your "bucket list"?
Skydiving!


Popcorn or M&Ms?
Peanut M&M's.


What do you like about working at Summit CPA Group?
Is this the same question as #3. Are you trying to trick me here? LOL!


What was in your high school locker?
Honestly, nothing too exciting... I had to share a locker with my good friend, so there wasn't a lot of space in there to personalize.


Hit The Treadmill Or Hit The Couch?
Treadmill in the AM, Couch in the PM.


What made you interested in the profession you are in?
I enjoy the business world - constantly changing, constantly evolving. I also like being a trusted advisor to both the client and the people at Summit I work with.
Want to work for one of the top 100 remote companies? Visit our career opportunities page.