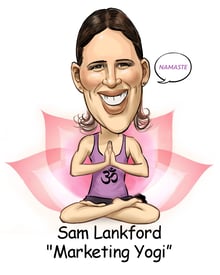 As a distributed company, not only do we serve our clients remotely, but our team members work remotely as well. We understand the accounting, bookkeeping, cash flow management, and tax nuances of running a distributed company. We pride ourselves on our ability to provide the highest quality Virtual CFO services and 401(k) Audits while working remotely with (and for) our customers, and we couldn't do any of it without our amazing team.
Every month we spotlight one of our employees so you can get to know us better.
This month we bring you: Sam Lankford. Sam has been with Summit CPA Group for 8 months now. She works on our Marketing team.
Here are 10 things about our April employee spotlight, Sam Lankford!
What was your very first job?
I babysat a lot! For family members and friends of the family.


Are you an early bird or night owl?
Definitely an early bird. By 7 PM I am ready to wind down and relax for the night.


What's your go-to productivity trick?
I love lists. I still use pen and paper for my lists.


How do you prefer to end your work day?
I like to make sure that my email inbox is at zero or at least as caught up as it can be for the day. I also like to review my Trello list so I have an idea of what my next day will be like.


What's your all-time favorite dessert?
Chocolate brownies!


What's one of your favorite T.V. shows?
Will & Grace.


Cats or Dogs?
Dogs.


What's the first thing you notice about people?
Their teeth!


What kind of weather do you prefer: hot or cold?
Hot.


If you won the lottery, what is the first thing you would do?
I would pay off my student loans, spread the wealth to my family and then save the rest.
Want to work for one of the top 100 remote companies? Visit our career opportunities page.