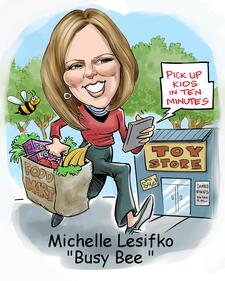 As a distributed company, not only do we serve our clients remotely but our team members work remotely as well. We understand the accounting, bookkeeping, cash flow management, and tax nuances of running a distributed company. We pride ourselves on our ability to provide the highest quality Virtual CFO services and 401(k) Audits while working remotely with (and for) our customers, and we couldn't do any of it without our amazing team.

Every month we spotlight one of our employees so you can get to know us better.

This month we bring you: Michelle Lesifko
What's you role at Summit CPA? How long have you been here?
I'm a Virtual CFO. I've been with SCPA nearly three years.


Are you usually early or late?
It depends. I'm just on time.


What song do you have completely memorized?
I can pretty much sing along to any song on the radio. When I'm in my car or in the shower, I sing along and always sound just like the artist.


What do you love most about your work at SCPA?
The people--both internal colleagues and my clients. Also, our core values are great—especially humor. If you can't laugh, what can you do? Laughter gets me through the difficult times.


What job skill would you like to master?
Excel. It's on my bucket list.


What's the single best day on the calendar?
December 24—Christmas Eve. I have established traditions with my boys.


What's one of the hottest trends in Finance and Accounting right now?
Looking forward and seeing the impact of the environment is imperative to the financial health of my clients. For example, we're approaching a political year, so that will have an impact on businesses.


What are some small things that make your day better?
Sococo—our virtual workplace. I also cherish the time I spend with my boys each morning.


What business book are you reading? What lessons are you learning?
Dare to Lead by Brene Brown. Lessons: There is power in truth. It's better to be honest. Clear is kind. Unclear is unkind. Just say the truth; don't beat around the bush.


Why did you decide to do the work you are doing now?
Early on I wanted to be a teacher. I took my first accounting class in High school, and math has always been easy for me. I decided to be an accountant and never looked back. Then I became a CPA. I love the leadership of different clients. I truly enjoy helping them and making an impact.





Want to work for one of the top 100 remote companies? Visit our career opportunities page.