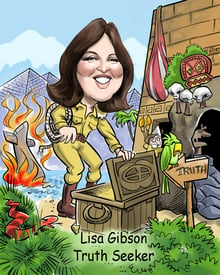 As a distributed company, not only do we serve our clients remotely, but our team members work remotely as well. We understand the accounting, bookkeeping, cash flow management, and tax nuances of running a distributed company. We pride ourselves on our ability to provide the highest quality Virtual CFO services and 401(k) Audits while working remotely with (and for) our customers, and we couldn't do any of it without our amazing team.
Every month we spotlight one of our employees so you can get to know us better.
This month we bring you: Lisa Gibson. Lisa has been with Summit CPA Group for 8 years. She works on our 401(k) Audit team.
Here are 10 things about our February employee spotlight, Lisa Gibson!
If you had 25 hours a day, how would you use your extra time?
Well since it's only one hour, probably at-home projects.


What skill do you think everyone should have?
Personal finance skills, like budgeting and knowing when to step away from a 'good deal.'


If you had to teach a class on one thing, what would you teach?
Environmental awareness.


What is the best perk you have ever enjoyed at a job?
Flexible work hours!


If you could magically become fluent in any language, what would it be?
I guess I would pick French. I studied it in high school.


In your opinion what is one of the biggest challenges you face in your line of work?
Keeping the audit flowing along even when the client isn't responding well.


Do you make your bed in the morning?
Yes!


What game show do you think you could win?
The Price is Right.


What food can you not stand?
Most kinds of fish.


Which is typically better, the book or the movie?
I read a lot of mystery books, so I have to say books.
Want to work for one of the top 100 remote companies? Visit our career opportunities page.