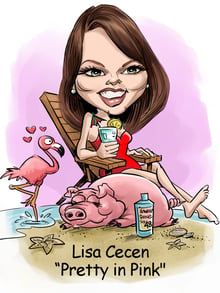 As a distributed company, not only do we serve our clients remotely, but our team members work remotely as well. We understand the accounting, bookkeeping, cash flow management, and tax nuances of running a distributed company. We pride ourselves on our ability to provide the highest quality Virtual CFO services and 401(k) Audits while working remotely with (and for) our customers, and we couldn't do any of it without our amazing team.
Every month we spotlight one of our employees so you can get to know us better.
This month we bring you: Lisa Cecen. Lisa has been with Summit CPA Group for 3.5 years. She works on our 401(k) Audit team.
Here are 10 things about our December employee spotlight, Lisa Cecen!
What lead you to this career?
I went back to school at 21, needing to find a job that I was good at, and that would support myself and family. I started basic business classes, and when I took my first accounting class it clicked with me - I loved it. I found it fun when everyone else couldn't wait to get through it. I then started as a public accountant right out of school.


Where is your favorite place to be?
I love to be on a beach or lake. I have big lakes near me in North Georgia.

If you could pick up a new skill in an instant, what would it be?
Dancing. I would be a Dancing with the Stars pro!


If you had a time machine, would you go back in time or into the future?
Into the future assuming that I wouldn't be stuck there. I know what happened in the past, so going into the future would be fun to see what's coming long after I would be gone.


What is the first thing you remember buying with your own money?
I don't remember anything tangible. I still don't buy many things. I got my first job when I was 16. My parents got me a car, but I paid for my own gas and got a job as a waitress at Shoneys. I remember being excited to go to fast-food restaurants or movies with my own money.


What is your greatest strength in your current job?
I think if you asked me 6 months ago I would say something different, but now I think my strength is my patience and my ability to remain calm in stressful situations. When others panic about deadlines, I find myself not panicking which helps me get my work done.


What is your best secret for getting through a tough Monday?
Lots of coffee. I like to work out in the mornings. I feel like when I work out in the mornings it stops me from feeling tired. Plus, good music in the background throughout the day to keep my mood up.


Which season would you say fits your personality best?
Summer. By far, my favorite! I love to be outside with a drink and music by the lake, river, or pool.


What is the most valuable piece of career advice you have been given?
This isn't necessarily "advice given," but I have learned, from the 401(k) team here at Summit, to help each other and not isolate myself and try to do everything on my own. Be willing to share tips and tricks and styles of problem-solving with the others. Not trying to reinvent the wheel every time. Being open to look at your peers and adopt that.


What is something you believed in earlier in your career, but think differently about now?
I have audited for 5 years now, and with that, my role has progressed and I now have additional responsibilities within the team. I thought the transition would be easier when moving up in my role. There's been a bit of a learning curve that I didn't expect given my years of experience. I have had to adapt.
Want to work for one of the top 100 remote companies? Visit our career opportunities page.