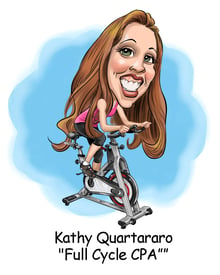 As a distributed company, not only do we serve our clients remotely, but our team members work remotely as well. We understand the accounting, bookkeeping, cash flow management, and tax nuances of running a distributed company. We pride ourselves on our ability to provide the highest quality Virtual CFO services and 401(k) Audits while working remotely with (and for) our customers, and we couldn't do any of it without our amazing team.
Every month we spotlight one of our employees so you can get to know us better.
This month we bring you: Kathy Quartararo. Kathy has been with Summit CPA Group for 1 year and 3 months. She works on our Virtual CFO team as a Senior Accountant.
Here are 10 things about our May employee spotlight, Kathy Quartararo!
What activity helps you relieve stress?
Bicycling.


When you were a child, what did you want to be when you grew up?
Teacher.


What is a unique skill you bring to your job?
Summit is the first accounting firm I've worked for. Previously, all my experience was in corporate accounting and I think that experience has helped me to be successful in my role at Summit.


If you could learn any skill, what would it be?
To speak Spanish.


What movie can you watch over and over again?
Grease.


If you could only pick TWO foods to eat for a month, which foods would you choose?
Mexican and Japanese.


Are you a cat person or a dog person?
Dog person for sure, we have two rescue dogs!


What's the most valuable thing you ever learned in school?
Not to procrastinate, although I still struggle with that sometimes.


What are three positive words that people often use to describe you?
Motivated, determined, detail-oriented.


What is one work related goal that you would like to achieve in the next five years?
To help streamline processes and increase efficiencies
Want to work for one of the top 100 remote companies? Visit our career opportunities page.