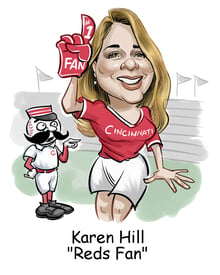 As a distributed company, not only do we serve our clients remotely, but our team members work remotely as well. We understand the accounting, bookkeeping, cash flow management, and tax nuances of running a distributed company. We pride ourselves on our ability to provide the highest quality Virtual CFO services and 401(k) Audits while working remotely with (and for) our customers, and we couldn't do any of it without our amazing team.
Every month we spotlight one of our employees so you can get to know us better.
This month we bring you: Karen Hill. Karen has been with Summit CPA Group for 2 years. She works on our 401(k) Audit team.
Here are 10 things about our January employee spotlight, Karen Hill!
Sweet or savory?
Sweet.


What are the three things you can't live without?
Treadmill, phone, and my bed.


In three words, how would you define yourself?
Introvert, laid back and perceptive.


What book did you most recently finish?
Wire-to-Wire: Sweet Lou, Nasty Boys, and the Wild Run to a World Championship. It was about the 1990 Cincinnati Reds season.


What's the one talent you wish you had?
I wish I could sing better.


What's your favorite part of your job?
The flexibility. I have a lot of clients that are on the west coast which is good because I'm not a morning person, even though I usually get up at 6:30 AM, but it still kind of takes me a while to get going. Also, no commute!


When did you first feel like an adult?
I don't know if I feel like an adult, HAHA! I know there are things that I do that are "adult", but in my mind, I still feel like I am figuring things out.


If you had a paid year off a work, how would you spend it?
Traveling!


If you could instantly learn any skill, what would it be?
Woodworking. I've done some pieces already—I refinished one of our tables. I would like to perfect it and be able to do more.


Pancakes or waffles?
Waffles –

a decadent Belgian waffle with whip cream and strawberries!
Want to work for one of the top 100 remote companies? Visit our career opportunities page.