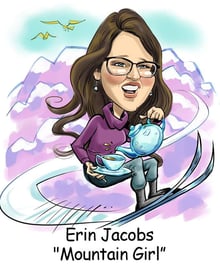 As a distributed company, not only do we serve our clients remotely but our team members work remotely as well. We understand the accounting, bookkeeping, cash flow management, and tax nuances of running a distributed company. We pride ourselves on our ability to provide the highest quality Virtual CFO services and 401(k) Audits while working remotely with (and for) our customers, and we couldn't do any of it without our amazing team.
Every month we spotlight one of our employees so you can get to know us better.
This month we bring you: Erin Jacobs. Erin has been with Summit CPA Group since May 2019. She works on our 401(k) Audit team.
Here are 10 things about our October employee spotlight, Erin Jacobs!
When you have 30 minutes of free-time, how do you pass the time?
I have a 1 year old and 3 year old so I don't have much free-time these days! But what I do love to do is we live in a university town. So if we need something to do with the kids, I'll get my son's bike and my daughter's stroller, and we'll go and zip around the university for a fun walk. I can grab a cup of coffee and run around with them there. I love doing that.


What is something you learned in the last week?
This past week I learned a trick in Excel— specific to setting up PIVOT tables in classic view. Tweaking the setup has made the formatting so much easier to work with.

Are you an early bird or a night owl?
Both!


What was your very first job?
Subway! I was a sandwich artist.


If you could only eat one thing for the rest of your life, what would it be?
Oh gosh, that's a big commitment! I would say, zucchini. I really do love it. There's so many ways to eat and cook with it.


If you could only listen to one singer or band for the rest of your life, who would you choose?
My taste in music jumps around pretty fast, but right now I've been on a New Orleans jazz kick. There's a band called, The Preservation Hall Jazz Band. They've been around for a while. They like to mix things up quite a bit. I really am liking them right now.


If you had to live in another time period, what would you choose and why?
The first thing that comes to mind are the '20s and '30s era. There was just so much going on at that time leading up to the Great Depression. My grandparents lived during that time—one set of my grandparents worked on a farm and my other set of grandparents were small business owners. It would be interesting to see what life was like for them in Southern California and here in Utah. And I'd be really curious to see what Hollywood was like then. Sad time, but so much going on that shaped the nation.


Do you like roller coasters?
Yes I do.


What energizes you at work?
Picking samples. It is really satisfying, making sure I've got my minimum coverage, running through the names. The process from start to finish is really satisfying.


If you could choose anyone, who would you pick as your mentor?
I haven't thought about her in a long time, but there was someone named, Zora Neale Hurston. When I was in high school I really wanted to be an anthropologist. Zora traveled around the world collecting old folk stories, and I just always thought that she was the coolest person! I liked how she was out there meeting people collecting their stories. There would be so much to learn from her.
Want to work for one of the top 100 remote companies? Visit our career opportunities page.