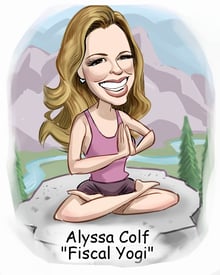 As a distributed company, not only do we serve our clients remotely but our team members work remotely as well. We understand the accounting, bookkeeping, cash flow management, and tax nuances of running a distributed company. We pride ourselves on our ability to provide the highest quality Virtual CFO services and 401(k) Audits while working remotely with (and for) our customers, and we couldn't do any of it without our amazing team.
Every month we spotlight one of our employees so you can get to know us better.
This month we bring you: Alyssa Colf. Alyssa has been with Summit CPA Group for the past 2.5 years. She works on our Virtual Accountant team as a Senior Accountant.
Here are 10 things about our November employee spotlight, Alyssa Colf!
What's one professional skill you're currently working on?
Right now I am taking accounting classes so that I can be eligible to sit for my CPA.


What's the coolest (or most important) trend you see today?
At Summit we like to

emphasize that accounting is trending more towards analytical thinking and less towards the bookkeeping side—for example there are robots now that can do things like bookkeeping. Being an accountant is more than just plugging numbers. It's thinking analytically and being able to provide support and direction to our clients rather than just keeping up the books.


What's your go-to productivity trick?
Making lists. It's impossible to focus all your mental processes on multiple things at once. I have lists related to personal tasks, and lists related to work tasks.


How do you prefer to end your work day?
I like to make sure that my email inbox is at zero, or at least as caught up as it can be for the day. And that I've replied to all my Slack messages, and that my Trello board is set up for the next day. If I had to push anything over to tomorrow's to do list, then I make sure that's all ready to go too. I also like to review what time my first meeting is the next day so that I am better prepared for what's needed.


What's your all-time favorite dessert?
Pumpkin pie!


What's one of your favorite T.V. shows?
The Office.


If you could be famous for one day, what do you want to be famous for?
A famous yoga teacher.


What's the first thing you notice about people?
At first glance, I think you can sense a lot about someone's attitude by their body language. Like if they are open and warm, or closed up and standoffish. Body language says a lot.


What kind of weather do you prefer: hot or cold?
I prefer weather that comes with the Fall. It's a good mixture of cool and warm temps throughout the day.


If you won the lottery, what is the first thing you would do?
I would probably save half of it in a liquid account and a quarter of it in a fixed income account. And then I would probably use the rest to buy myself something nice. Or, I've always thought about opening my own coffee shop! So if I won the lottery I would invest it, and own a coffee shop.


Want to work for one of the top 100 remote companies? Visit our career opportunities page.