You hired very capable employees to take care of the daily tasks of your business, allowing you to finally relax and focus on the big picture. Everything seems to be running smoothly, yet you are still feeling stressed out. You feel the need to micromanage your employees to ensure everything is perfect. After all, if you want something done right you have to do it yourself, right?
For the sake of your own sanity, the success of your business, and your personal life, you need to learn how to delegate effectively. After all, you hired your employees because you were confident they are capable of getting the job done whether you're right there at their side or not. Once you feel comfortable delegating and trust your employees to do the job you hired them to do, it will free up your time so that you can look for new clients or spend more time with your family. Below are a few tips to help you delegate effectively.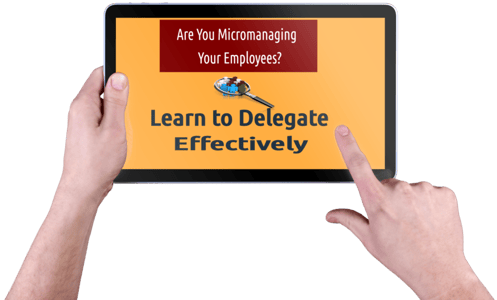 Complete job instructions. It's imperative that your employees understand the job description and have the complete instructions (a handbook) necessary to complete the job, at their fingertips.


Training. Provide sufficient time to learn the job. Remember, to err is human. It's important to understand that learning new skills sometimes includes making mistakes. Let the employee know that you or another knowledgeable employee will be available to answer questions and offer assistance if needed.


Cross training. It never hurts to cross-train your employees. Your clients may not be happy if they find out they have to wait until a certain employee is back on the job before they can get an answer to a simple question or to resolve an issue. By cross-training your employees there will always be someone available with the knowledge to resolve any issues that may arise.


Don't expect perfection. Methodology shouldn't be an issue if you have established the goals and standards. Your objective is to get the job done. Establish a standard of quality and a fair time frame for completion. Then let your staff decide the best way to carry out the project.



Check for progress.

Check in periodically to make sure everything is going as it should be. Build in a time for follow-ups to check on the project, but let the employees do the work. Make yourself available to answer questions.
Note: It's also important to say "thank you" once in a while to show the employees you appreciate their hard work.
At Summit CPA we offer multiple resources to keep your business on the right track. If you need assistance, contact our office at 866-497-9761 to schedule an appointment with our advisors.