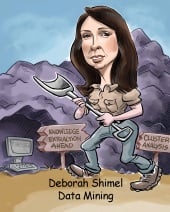 As a distributed company, not only do we serve our clients remotely, but our team members work remotely as well. We understand the accounting, bookkeeping, cash flow management, and tax nuances of running a distributed company. We pride ourselves on our ability to provide the highest quality Virtual CFO services and 401(k) Audits while working remotely with (and for) our customers, and we couldn't do any of it without our amazing team.
Every month we spotlight one of our employees so you can get to know us better.
This month we bring you Deb Shimel. Deb has been with Summit CPA Group for 7 years. Her IT role has changed over the years at Summit. Deb started out focusing on application development, then added hardware/software deployment to her roster. Currently her primary focus is security as our IT Manager.
Here are 10 things about our November Employee Spotlight, Deb Shimel!
What are your favorite pizza toppings?
That would depend on the day, anything but anchovies.


What did you study in college?
Finance and Management Information Systems.


Have you ever broken a bone?
My collar bone when I was a child, nothing exciting like flying off a skateboard ramp, just rolled off the bed, lol!


Have you been to the ocean?
Two, the Atlantic and the Pacific oceans.


Do you work better in the morning or at night?
Probably morning, even though I am not a morning person.


Do you have any short-term goals?
Improve my proficiency in our new apps.


What was your favorite class in high school?
That's hard to pin down to one, I enjoyed all math and science classes.


What do you enjoy most about your job?
That there are always new things to learn.


Would you describe yourself as a clean or messy person?
Clean, but I've always described my style as "organized clutter", not quite "a place for everything and everything in its place", more like "a zone for everything but not a specific spot".


What do you feel is the best way to overcome challenges in life?
Gather information, do your best, know when to ask for help, trust God to do the rest.

Want to work for one of the top 100 remote companies? Visit our career opportunities page.