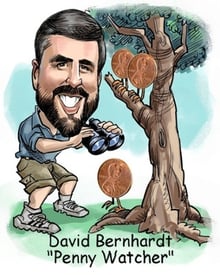 As a distributed company, not only do we serve our clients remotely, but our team members work remotely as well. We understand the accounting, bookkeeping, cash flow management, and tax nuances of running a distributed company. We pride ourselves on our ability to provide the highest quality Virtual CFO services and 401(k) Audits while working remotely with (and for) our customers, and we couldn't do any of it without our amazing team.
Every month we spotlight one of our employees so you can get to know us better.
This month we bring you David Bernhardt. David has been with Summit CPA Group for almost 4 years. He is a Senior Accountant on our Virtual CFO team.
Here are 10 things about our September Employee Spotlight, David Bernhardt!
What is one important skill that you think everyone should have?
I think everyone should embrace the skill of adaptability. Being able to roll with the punches is integral in all aspects of life, whether it comes down to utilizing a new SaaS accounting tool, learning a new task, building your relationships, or taking constructive criticism. Adaptability helps you expand and grow.


There are now 25 hours in a day! How do you spend your extra hour?
If I had an extra hour in the day I would likely use it to spend more time with my kids. I would go on a hike with them, go fishing, or play a board game.


What is a unique skill you bring to your job?
I have a tough skin. If I am at fault in a situation then I fess up, but if not and I am still taking the brunt from a client or co-worker, I have always done well to never take things personally, to focus on the big picture, and to move the ball forward. Resolve the core issue and figure out the best way to address grievances and keep moving forward.


What is one thing you are looking forward to doing when you retire?
When I retire I am looking forward to traveling more. Visiting all the national parks, backpacking in Europe, Australia, hunting expeditions, regular trips to the beach and skiing. Obviously in this scenario I will have retired very wealthy - hahaha!


What is one of your greatest achievements?
I attended a summer camp for type 1 diabetic children and then later became a counselor, lifeguard, program director. The camp truly shaped me into the person I am today. On the tail end of the recession in 2008 the camp essentially went out of business. My wife and I essentially saved the camp by coming up with new donors, reviving the camp family, establishing a bare bones budget and business plan, and presenting it to the board. We were voted onto the board and we succeeded in keeping the camp alive and rebounding and still continuing to this day!


What activity helps you relieve stress?
The best way for me to relieve stress usually has to do with music and/or driving through the countryside. Sam Tinnesz or Steely Dan, windows down, and driving through the hills with a nice V-8.


Who is an influencer, author or speaker you follow within the accounting/finance industry?
I like to follow Mark Cuban. His eagerness to try new industries and shake things up all while having what seems to be a solid business sense is quite entertaining. He also has a high magnitude of candor which is often refreshing.


When you were a child, what did you want to be when you grew up?
When I was a kid, for nearly my entire childhood, I wanted to be an architect!


Science fiction. Love it or hate it?
I love science fiction. It is my go to movie genre. Traveling to other worlds, alien contact, time travel, futuristic movies. I know... huge nerd!


At a company field day, what is the event that you would most likely win?
Bring on the eating contest!
Want to work for one of the top 100 remote companies? Visit our career opportunities page.