If you missed out on Black Friday and Small Business Saturday, or just didn't find everything you were looking for this past weekend, you're in luck. It's Cyber Monday to the rescue.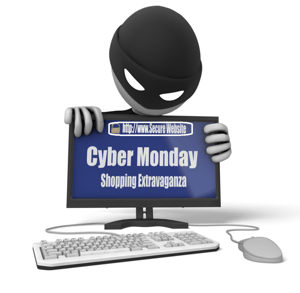 There are so many great deals out there that it may be tempting to "bust your budget". So, why not try some of the many different websites available to help you find the best prices and save you money, such as Retailmenot, Groupon, Honey, etc.
When you're shopping online, don't forget to make sure the websites you visit are safe. The scammers are always out there with look-a-like websites or sending authentic-looking emails asking you to confirm your personal information. You should never click on an unsolicited email. Instead, go to the website yourself or call the company directly.
If a company calls you saying there's a problem with your charge account, don't give out your personal information. Hang up and call the business in question to be sure they actually tried to contact you. Chances are, they didn't.
It is the time of year that many charities are looking for donations. Make sure that your donations are going to a legitimate charity of your choosing. Otherwise, do not give personal information to those seeking charitable contributions, and don't offer cash donations. If you believe the charity is legitimate, make your contributions by check or credit card. This will provide greater security as well as records for tax deduction purposes. Good luck finding and taking advantage of all the great deals today.
At Summit CPA we offer multiple resources to keep you on the right track. For more tips, contact our office at (866) 497-9761 to schedule an appointment with our advisors.