The statistics concerning the Coronavirus are constantly changing. Most states have taken steps to slow down the spread of the virus by shutting down businesses, schools, and telling everyone to stay home unless your job is essential. Businesses such as those in the health industry, pharmacies, grocery stores, and service stations, etc. are considered essential. Some restaurants and fast food businesses are also open but only for delivery or carryout.
This potentially dangerous virus does not discriminate by age, sex, race, or politics. Those with underlying health conditions or compromised immune systems are more susceptible to the virus. It's important that you follow the suggested guidelines set by the CDC to stay healthy and prevent exposure.
With many businesses and schools closed you may feel stuck at home and feeling a bit of cabin fever, the kids (if you have them) are getting restless too. We all need to make the best of this time as we hunkered down. Here are a few suggestions to break up the monotony.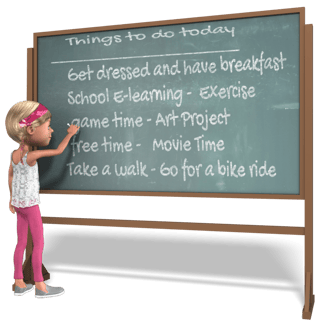 Use this time to reconnect with your family. If you don't already have a face time app, download one. This is a great way to keep in touch with the parents, grandparents, and other extended families.


Use this time to reconnect with your kids. Play board or video games together or work on a puzzle. Try a game of "find the thimble" or a guessing game. Have a makeover, a tea party, or make a tent using blankets for nap or storytime.


E-learning. It's important that kids keep up with their studies. If the kids have e-learning, set a time so that you can observe or help if needed.



Keep to your regular routine.

Get up at the same time and go to bed at the same time and eat healtihy.


Schedule. Keep your routine. Weather permitting, get some fresh air, go for a walk, a jog, or a bike ride.


Dance. Listen to your favorite music. Have a dance party with the kids.


Artwork. Most kids love to draw and paint. This can be a good relaxing time for adults too.


Cook. Teach the kids how to cook safely. You can bake cookies or make a cake, etc.


Read. Is there a book you've been meaning to read but never have the time? Now you do. If you have little ones, set a storytime each day. You can even let them choose their favorite story to read.



Catch up.

on TV shows or movies you've been wanting to see.


Clean up. Probably not the top of anyone's to-do list, but there is probably some cleaning or redecorating projects that you wanted to do but never had the time due to a busy schedule.
Just remember, you're not in this alone. This is a challenging time for everyone, we all need to make the best of the hand we are dealt with by following the safety guidelines. The staff at Summit CPA is working remotely so that we can continue to assist our clients. You may also click on this link for Coronavirus daily updates.