Many are aware of the 529 college savings account, but have you heard of the 530 educational savings account also known as the Coverdell Education Savings Account (CESA)? Both offer tax incentives to encourage you to set money aside for education. The main difference between the two educational savings accounts is:
* The 529 is a "college savings account" that offers tax benefits for qualified tuition programs with a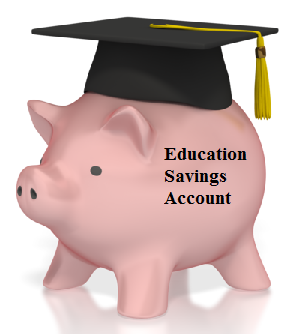 limit of the "anticipated cost of a beneficiary's qualified education expenses".
* The 530 education savings accounts can be established for a child under the age of 18. Once the Coverdell (CESA) account is set up, you can make contributions of up to $2000 per year. Amounts you contribute to a Coverdell can be used to pay for educational costs from kindergarten through college. The contribution limits begin to phase out when your income reaches $190,000 for joint filers and $95,000 for single filers.
Anyone, including trusts and corporations, can contribute to the account until the child turns 18. However, there are no age restrictions when the Coverdell is established for someone with special needs.
Although your contribution is not tax-deductible, earnings within the account are tax-free as long as you use them for educational expenses or qualify for an exception. You can also make a tax-free transfer of the account balance to another eligible beneficiary.
Qualified distributions from a Coverdell are tax-free when you use the money to pay for costs such as tuition, room and board, books, and computers.
For more information about other rules that apply to Coverdell accounts or the 529 accounts, contact our office at (260) 497-9761 to schedule an appointment with our advisors.