Good news! Congress extended certain tax breaks through 2014 for individuals and the extensions are retroactive to the beginning of 2014. Any further extensions into the new year will be dependent upon a vote by the new Congress in 2015. Here are some the tax extensions.
* An individual age 70½ and over could transfer up to $100,000 tax-free from an IRA to a charity. The transfer counts as a required minimum distribution (RMD).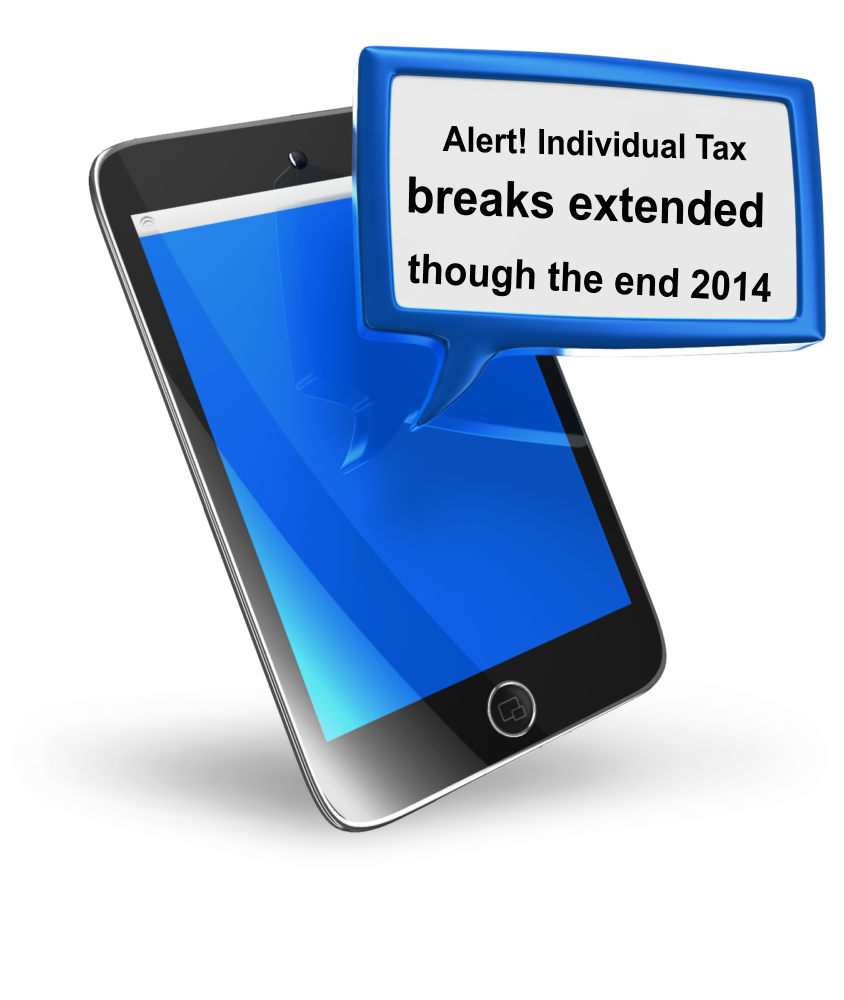 * Homeowners can exclude tax on mortgage debt cancellation or forgiveness of up to $2 million. This tax break is only available for a principal residence.
* A taxpayer is generally entitled to credit of 10% of the cost of energy-saving improvements installed in the home. Other special limits may apply.
* Parents may be able to claim a tuition-and-fees deduction for qualified expenses. The amount of the deduction is linked to adjusted gross income.
* Educators can deduct up to $250 out of their out-of-pocket expenses. This deduction is claimed "above the line" so it is available to non-itemizers.
* The new law authorizes tax-free accounts for disabled individuals who use the money for qualified expenses like housing and transportation, as well as providing greater investment flexibility for Section 529 accounts used to pay for college.
* The law retains an optional deduction for state sales taxes in lieu of deducting state and local income taxes. This is especially beneficial for residents of states with no income tax.
In other good news, the IRS has announced the new 2015 mileage rates to be used for business, medical, moving, and charitable driving in 2015.
* The rate for medical and moving mileage decreases from the prior year's 23.5 cents a mile to 23 cents a mile.
* The rate for business driving increases from last year's 56 cents a mile to 57.5 cents a mile.
* The general rate for charitable driving remains at 14 cents a mile.
For more up-to-date tax information or assistance with a tax strategy that will fit your needs, contact our office at (877)605-8353 to schedule an appointment with our Tax Advisors. Our Virtual CFO is capable of providing assistance anywhere in the USA.