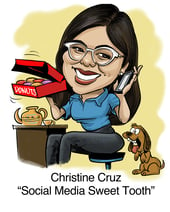 As a distributed company, not only do we serve our clients remotely, but our team members work remotely as well. We understand the accounting, bookkeeping, cash flow management, and tax nuances of running a distributed company. We pride ourselves on our ability to provide the highest quality Virtual CFO services and 401(k) audits while working remotely with (and for) our customers, and we couldn't do any of it without our amazing team.
Every month we spotlight one of our employees so you can get to know us better. This month we bring you, Christine Cruz. Christine has been with Summit CPA Group for 9 months. She is our Social Media and Communications Coordinator.
Here are 10 things about our June Employee Spotlight, Christine Cruz!
What's your number one tip for combating distractions when working from home?
A time of silence every waking day! Meditation has helped me manage distractions. It keeps my head clear and at peace, and it enabled me to identify my priorities for the day.


Are you an early bird or night owl?
It's so hard to tell… I sleep at sun up and wake up at night. I'd say I'm a night owl -technically.


If you could learn one new professional skill, what would it be?
Hmm… I always loved playing around with my camera, taking videos, and editing it. If I could learn one new professional skill it would probably be anything film or photography related.


You have your own late-night talk show, who do you invite as your first guest?
I'm a big FRIENDS fan and I've watched all 10 seasons every year since 2018…I'd die to have the whole FRIENDS cast guest on my late-night talk show!


What was your least favorite food as a child? Do you still hate it or do you love it now?
I hated nuts when I was young, all kinds – especially in chocolate! I used to tell people I was allergic whenever they offered so they'd stop forcing me to try them. I don't hate nuts anymore though. I eat them in my pad thai, and even snack on almonds and cashews. They still are not my "go-to" food though.


If you had to delete all but 3 apps from your smartphone, which ones would you keep?
Ha! That's a difficult question. I would keep FB Messenger because that's how I communicate with most of my friends and family, the Camera to capture memories, and my Kindle app so I can stay away from social media and finally finish reading all the books I bought.


What would your superpower be and why?
If I had a superpower it would definitely be teleporting. I love traveling and being able to go to places I want to visit with just a blink of an eye would be sweet. *blink* Italy *blink* Japan *blink* California *blink* Canada.


As a child, what did you want to be when you grew up?
I'm the only child… and I clearly remember answering my aunts and uncles who asked me this question that I wanted to be a big sister when I grow up. LOL. Plot twist - I did! But I'd save that story for another time.


What's your favorite tradition or holiday?
Every year our whole clan (yes, the whole clan which is roughly 55 adults and children) would celebrate Christmas Eve together. All the aunts, uncles, cousins would be there, playing fun games, eating, drinking, and then giving gifts, and praying at exactly midnight. It is one of my favorite traditions, and it was something everyone looked forward to.


Coffee or tea?
If I slashed my wrist, I'd be bleeding coffee for sure.
Want to work for one of the top 100 remote companies? Visit our career opportunities page.