We have officially launched the Virtual CFO Community, a Community of Firm Owners.


With the mission statement, "Changing the way people think about accounting," our goal is working to make this level of service a norm rather than an exception within other accounting firms. As part of that goal, we are building a community of CPA Firm owners who want to learn how to provide or enhance their existing Virtual CFO service offerings.
The Virtual CFO Community has been developed to give firm owners a variety of different ways to learn and connect with one another.
---
This community includes:

Free CPE Webinars - 12 CPE webinars per year for CPAs, designed to keep you current with Virtual CFO best practices while also maintaining your professional education requirements.

The Modern CPA Success Show Podcast -

For accounting firm owners who want to learn how to make their firm more profitable. Tune-in bi-weekly as host Jamie Nau interviews Summit CPA's COO and Co-founder, Adam Hale, and other members of the Summit CPA Group team.

Slack Network

-

For just $29 per month you can network with other firm owners in Slack, get tips and advice on how to grow your firm, and get easy access to Summit's podcast episodes and CPE webinars.
If you have been looking for a way to enhance your CPA firm, now is the time to join the community and start getting the support you need to grow your firm!
---
You're invited...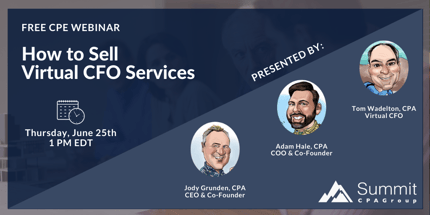 Join us on Thursday, June 25th at 1pm EST
for a FREE CPE Webinar:
How to Sell Virtual CFO Services


Learn more and reserve your spot today!


* Participants will earn 1 CPE Credits in the Communications & Marketing field of study