Some new businesses start out on a shoestring budget or what some would call "bootstrapping." Meaning they start their business relying on personal income and savings, not with loans or investor money.
Bootstrapping can be tough because you don't have all the extra resources that you would if you had investors or a bank working with you. Mostly because your resource supply could come up short. But when it comes to authority and control issues, you're the boss. That's why it's important to know how and where, to spend your cash flow wisely.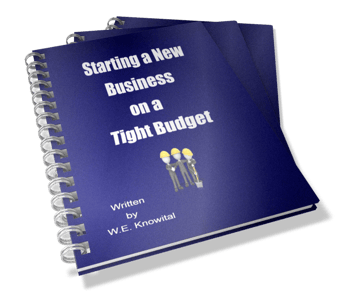 Having the right tools for your product/service is essential to ensure the quality and efficiency of your product/service with very little or no waste of time or cash. Once you find the right market and customer base, you'll need to invest in equipment that will increase your quality and output. This could mean anything from your computer and software to your new smart phone to get the job done right. Just keep in mind that every purchase is an important investment in your business.
Since you will likely be spending lots of time working, you need to make sure you have the right workspace. Unless you will be meeting with clients in your workspace, you just need to make sure it has sufficient space and is comfortable for you. A good place to start may be with the right desk and chair and don't forget about the lighting, it's important too. You could even put in a small refrigerator or a coffee pot. If you're comfortable you will be more productive.
When it comes to spending, only spend when it makes you (and your employees) more productive and enthusiastic to meet the challenges your business might face. Though, when your resources are really tight, you should probably only spend to reach your customer base. In the end, if it benefits your customers it will also benefit your business.
As your company grows you may find that you will need to hire employees, don't wait until you are overwhelmed to hire help. If you wait too long you may end up hiring employees that can't get the work done. Hiring the right employees is very important to the success of your business. Waiting too long to hire help could save you a little money but it could also hinder the growth of the business.
At Summit CPA we offer multiple resources that will help get your business on the right track. To find out how we can assist you, contact our office at 866-497-9761 to schedule an appointment with our advisors.