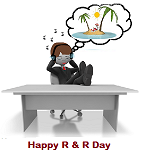 Summit CPA will be closed today, Wednesday, April 16th. We are taking a much needed day of R & R after a long tax season.
We would like to thank our clients for getting their paper work to us in a timely manner so that we could assist them in meeting the tax deadlines without penalties.
We would also like to thank our amazing staff at Summit CPA for all their long hours and hard work throughout the tax season.
Although we will be out of the office today, you may still contact our office at and leave a message at (260) 497-9761 and we will return your call as soon as possible. Our office will be open for business as usual on Thursday, April 17th.