Guiding your children to financial maturity is a long process. We all want our children to grow up to be financially responsible adults. That's why teaching your children about finances at an early age is very important if you want them to be competent in tending to their finances as adults. Of course, you can't expect the same understanding from a 5 year-old as you would your teenager or one going off to college. There are different ways to teach at different age groups.
Preschool. This is a time to teach your child to identify the different coins and bills and their value. This is also a good time to teach them about the "save or spend" lesson. Giving your child a piggy bank at an early age is a good way to instill the habit and importance of savings.
Grade School. This is a good time to open a savings account and give your child an allowance to manage. They can also learn a few things about interest. Take them shopping and teach them to read the price tags and learn about comparison shopping. Let them do the math and figure out if they really want to use all their allowance to make a purchase. Allow them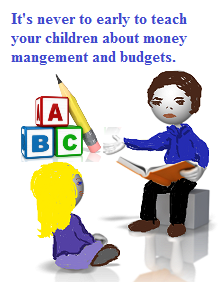 participate in some of the family financial discussions, for instance, when you are going on vacation or making a major purchase, show them how the process works and the thought behind the process.
Teenagers. Teens are more interested in the big ticket items, like a car. Which, comes with a whole slew of other expenses like car payment, insurance, gas, maintenance. If you have a teenager at home you already know this is a pretty expensive necessity. This is an excellent time to teach your teen to budget for the larger purchases.
If you haven't already, its time to teach them how to use a checking account. As your teen is getting ready for higher education, this is a good time to share the financial planning and saving for college. It is also a good time to teach the importance of investing in things like stocks, mutual funds, CDs, IRAs, etc.
Young adults/college students. As you send your child off to college they will be slammed with many enticing credit card offers. Teach your young adult that if they charge something they are responsible the bill that will come due at the end of the month, so use a credit card judiciously.
Teach your young adult about college loans, and the consequences of defaulting on loans. Don't borrow needlessly. Once again, the bill will eventually come due, with interest.
At this age your child is old enough to participate in your family discussions about estate planning. Tell them where those important papers are being safely held. At this stage your child may want an estate plan of their own.
It is never too early to teach your children about financial matters. One of life's critical skills is knowledge of handling money. Teaching our children how to earn it, use it, invest it, and share it, is only one of the great responsibilities of being a good parent and raising a responsible adult.
If you would like more tips on teaching your children financial responsibility, contact our office at (260) 497-9761 to schedule an appointment with our advisors.