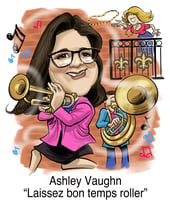 As a distributed company, not only do we serve our clients remotely, but our team members work remotely as well. We understand the accounting, bookkeeping, cash flow management, and tax nuances of running a distributed company. We pride ourselves on our ability to provide the highest quality Virtual CFO services and 401(k) audits while working remotely with (and for) our customers, and we couldn't do any of it without our amazing team.
Every month we spotlight one of our employees so you can get to know us better. This month we bring you Ashley Vaughn. Ashley has been with Summit CPA Group for five months. She is on our Virtual CFO team.
Here are 10 things about our January Employee Spotlight, Ashley Vaughn!
What's your favorite childhood board game?
Clue.


If you could take a month to travel anywhere, where would you go?
I would eat and drink my way through Europe!


If you could time travel, which period of time would you go back to visit?
The 1920's for the fashion and fast paced lifestyle.


What would you do with your 15 minutes of fame?
I would honestly do what I could to raise awareness and funds for autoimmune disease. I have an autoimmune disease and I wish we had more resources and research to help with early discovery and treatments.


What's the best book you've read so far this year?
Where the Crawdads Sing.


Which holiday is your favorite and why?
Halloween is my favorite holiday because it's the start of the holiday season. I love that the weather starts changing and having tons of family and friend time!


If you could tour with any band, which band would you choose?
Adele or Beyonce.


If you won the lottery, what's the first thing you would buy?
A vineyard in Sonoma with an amazing tasting room, with some great charcuterie board options and tons of land for our Frenchies.


What's your best idea for an invention?
I wish I had a machine that would fold and put my clothes away.


Are you a cat person or a dog person?


A big dog person!
Want to work for one of the top 100 remote companies? Visit our career opportunities page.