Are you ready to sell your business? Maybe you're ready to move on to something different or maybe you're ready to retire? Do you know where to start? A good place to start is with a business valuation. A valuation is an appraisal of your business that gives you a good starting point to properly set your asking price.
Getting a precise value of your business can be time consuming and complicated. However,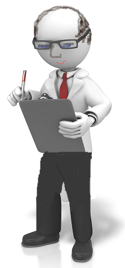 determining the fair market value will help attract potential buyers and reflect an amount that a buyer would actually pay for the business. If you're a service business, your valuation will substantially differ from a manufacturing or retail business. A valuation of your business should address two important questions.
* How does your business compare to similar businesses? A buyer will expect a reasonable return on their investment so your earnings must be defined. What should your earnings include or exclude? Should you include the depreciation, interest expenses, taxes, and the owner's wages? A valuation will also analyze your balance sheet and is the basis for appraising tangible and intangible assets, such as a non-compete agreement. It should also include any liabilities, for example; mortgages, loans, and accounts payable. Before your business put up for sale, all of these things should be clearly defined.
* Will there be a continuation of current trends? There is no crystal ball to predict the future. However, a good valuation should be based on assumptions, conservative projections, and good common sense. For instance, if the business will retain skilled employees and management, a buyer may pay a premium. Though, if a business is only dependent on a few customers or products, it may scare off some potential buyers, or a buyer may want concessions to diminish any perceived risks. These are all factors that should be considered in the business valuation.
A valuation is only a starting point for negotiations. Having an accurate valuation means that it's more likely that your business is correctly priced to attract potential buyers. It's important to hire a trained professional to avoid any missteps and faulty assumptions when determining the fair market value of your business.
At Summit CPA we offer multiple resources to keep your business on the right track. If you need assistance contact our office to schedule an appointment with our advisors.