It's important that you make the right pricing decisions to ensure that your company succeeds and grows. Making the right pricing decisions is always tough – and even more so when the economy if slow and sales are slipping. Some find it tempting to cut prices in hopes of generating higher sales volume. However, sometimes cutting prices just produces lower margins on a low volume.
So, you may be asking yourself what you should do if you're being squeezed by cost increases. You may be wondering if you can or should increase prices and how you will respond if your customers complain? Can you justify holding prices steady if your competitors cut their prices? The truth is there are no easy answers, but running through a 3-step process can help you make the right decision. Here are the 3 steps:
1. Know your strengths.
Ask yourself the following questions to find your strengths and weaknesses.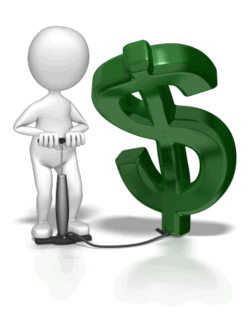 How does your product or product range stack up against your competition?

Are your products higher quality, lower quality, or indistinguishable from your competitors' products?

Do you have an edge that can justify higher prices?

How are all the other elements that make up your total service package?

Do you provide a wider product line and larger inventory, for faster delivery?

Do you offer better payment

terms

, and better service on returned items?

Do you have the ability to change your operations to gain an edge in any of these areas?
If you're not sure about the answer to some of these questions, ask your employees for feedback. They deal with your customers on a daily basis and likely have a good idea of what your customers like and what they don't like.
2. Put yourself in your customers' shoes
.
With the help of your employees, try to understand your customer needs.

Are your small business customers under profit pressure?

What changes are occurring in their industry?

How can you adjust your products or service to add value for them – value that they might be willing to pay for?

What are their alternatives if you raise prices? Will they shop somewhere else?
If your salespeople are staying in touch with their customers, they should already have the answers to many of these questions.
3. Know your competition.
Apply the same questions you asked about yourself to your competitors. What are their strengths and weaknesses? What can they offer your customers that you can't? How will they respond if you change prices? Here again, your sales staff should have good information on the competition they face.
When you've worked through these three steps you should have a much better idea of the competitive effect of a price change. Run some profit scenarios and then review your pricing decision with your salespeople. Make sure they understand the rationale, and review how they'll present the change to customers.
Are you ready to get an edge on your competitors? At Summit CPA, we offer multiple resources and techniques to help you get on the right track to attain your goals. For more information on how we can be of assistance to your company, contact our office at (866) 497-9761 to schedule an appointment with our advisors.