As a business owner you are in it to make a profit. That's why making the right pricing decisions may be tough at times. Charging the right price is even more important when the economy is slow and your sales are slipping. During a slow economy it may be tempting to cut prices to generate higher sales volume. Though sometimes cutting prices only produces lower profit margins.
So, what can you do if you're budget is squeezed by your vendors when they increase prices? If you increase your own prices, especially in a slow economy, your customers will complain and you could even lose some customers. On the other hand, can you justify holding your prices steady as your competitors reduce their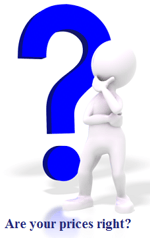 prices? There are no easy answers. Here are a few steps that may help you when making your pricing decisions.
* What are your strengths. How does your product compare to your competitions products? Are your products higher quality, lower quality, or the same as your competitors' products? How can justify charging higher prices?
* How is your business different? Do you maintain a larger inventory, faster delivery, better payment terms, wider product line, and better service on returned items? If not, how can you change your strategies to gain an edge in any of these areas? Your employees work closely with your customers and may be able to point you in the right direction for your pricing decisions.
* Empathize with your customers. Try to understand your customers' needs. How can you adjust your products or service that will add value so that customers might be willing to pay for? What are their alternatives if you raise prices? Again, your employees may be a good source for feedback.
* The competition: What are their strengths and weaknesses? What do they have to offer customers that you can't offer? How would your competitors respond if you change your prices? Depending on your business, consider price matching similar products that are sold by your competitors.
When you have the answers to these questions you will have a better idea of the competitive effect of price your changes. Review the changes with your employees so that they are equipped to present the changes to your customers.
It can be tough keeping your business competitive and making the right pricing decisions. At Summit CPA we offer multiple resources to keep your business on the right track. For more tips and assistance contact our office at (260) 497-9761 to schedule an appointment with our advisors.