The answer is...you are both. The problem is that you might not think of yourself as a "Brand". When most people think of brands they think Apple, Facebook, Starbucks, McDonalds, etc.
By definition a brand as a..."Name, term, design, symbol, or any other feature that distinguishes a business or product from those of others to their customer base. The key to a good brand is what makes your business or product different. For example; are you the best bakery, cyber security firm, retail store, etc.?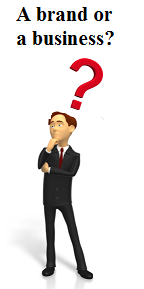 In the age of social media and technology you need to establish your company in a way that will give your customers and prospective customers a way to distinguish your company from all others that may offer similar services or products.
The design of your website, newsletter, social media and blogs have a lot to do with your brand. These outlets can establish you as a visionary leader. A well established brand will work to remind your customers about what you do and why they chose you. It can turn your current customers into advocates on your behalf in the way of referrals. Your brand will make a great first impression to prospective customers who may be considering doing business with your company. Here are some steps to consider when you establish your brand.
* Get a logo that represents what your company is about.
* Use key words on your website to generate attention from the different search engines. In one sentence on your web page describe what you do and why a customer should choose your business.
* Use newsletters, blogs, and social media on a regular basis to get the word out about your business. Be consistent and add the newsletters and blogs to the archives on your website.
At Summit CPA we offer multiple resources to keep your business on the right track. For more tips contact our office at (866) 497-9761 to schedule an appointment with our advisors.