Whether it's your business or personal taxes, the April 15th tax filing deadline will be here very soon. The question is - Are you ready? The trick to being ready is to have been organizing your tax documents throughout the year rather than waiting until the last minute to locate the documents you need. Things will go much smoother if you have all your important documents organized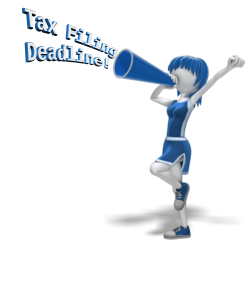 for your tax preparer. This would include proof of income such as: W-2s, 1099s, etc. as well as your receipts and documents, etc., as proof of deduction eligibility. Below is a list of the approaching tax deadlines.
April 15th deadlines are:
• Individual income tax returns
• C corporation income tax returns
• First-quarter 2019 estimated income tax
• 6-month income tax filing extension
• 2018 gift taxes
• 2018 IRA contributions
• 2018 HSA contributions
FYI: Filing an extension is only for filing your taxes and does not give you an extension of time to pay taxes owed. To avoid costly penalties, you must pay any taxes you owe by the April 15th tax deadline. If you are unable to pay the full amount of taxes owed, contact the IRS to set up a payment plan.
At Summit CPA we offer multiple resources to assist you with all of your tax and financial planning needs. Contact our office at 866-497-9761 to schedule an appointment with our advisors.