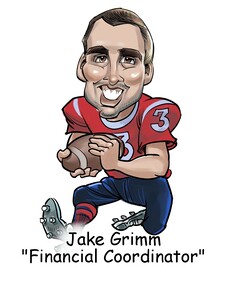 As a distributed company, not only do we serve our clients remotely but our team members work remotely as well. We understand the accounting, bookkeeping, cash flow management, and tax nuances of running a distributed company. We pride ourselves on our ability to provide the highest quality Virtual CFO services and 401(k) Audits while working remotely with (and for) our customers, and we couldn't do any of it without our amazing team.

Every month we spotlight one of our employees so you can get to know us better.

This month we bring you: Jake Grimm.

What's your title? How long have you been with Summit?
I'm the Director of Technology and I've been with Summit for 4.5 years.
2. How did you first learn about Summit?
A mutual friend of our CEO, Jody Grunden, lives close to me. Summit was looking to hire, and my neighbor mentioned it to me. I met with Jody a nd Adam Hale, the other Co-Founder, and the rest is history.

3. If you could pick one theme for Summit to turn into a book, what would it be?
Multi-tasking

What do you find the most challenging at Summit?
Juggling responsibilities—internal projects vs internal projects
Favorite movie?
I like the Star Wars movies, the Godfather movies, and Shawshank Redemption. I watch a lot of Disney movies these days.
Do you have a favorite newspaper, blog?
I like the Apple News app.
If given a chance, who would you like to be for a day?
Ken Griffey, Jr. He's my all-time favorite baseball player. Back in the day—before he retired—it would be cool to spend a day in his shoes.
What is on your wish list for the next 10 years with Summit?
Ah! To have every thing automated! Processes, tasks, dashboards, etc.
Least favorite Food?
I'm now allergic to shellfish. I just avoid seafood all together.
Where is your hometown?
Auburn, IN. I have lived here my entire life except when I left for college. For college I attended Manchester, a really small school about an hour away.
Want to work for one of the top 100 remote companies? Visit our career opportunities page.