There are multiple reasons that you may need to file an amended tax return. It may be as simple as a math error, missing information, or just a common oversight. Whether you owe the IRS or they owe you, you shouldn't fear filing an amended return.
There are certain situations that may trigger amended returns such as a casualty loss in a presidentially declared disaster. You may deduct the losses on your return or you can amend your prior years return and deduct the loss on that year's return.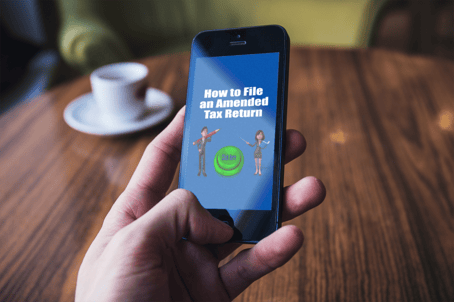 Finding the most beneficial strategy to fit your situation will depend on a few different things such as; your tax brackets for both years, if the loss occurred early or late in the year, and the amount of your loss. Filing an amended return may help ease the pain of certain business losses. Another benefit of filing an amended return is when there's a retroactive change in tax laws as a result of a favorable court ruling or new legislation.
When you file an amended return you should use Form 1040X (Amended U.S. Individual Tax Return). Usually, you have the choice of whichever is later, either 2 years from the time the tax was paid or 3 years from the time a return is filed.
There have been many tax law changes in the past few years. The list of items that are deductible and as well as items included in taxable income have changed from year to year. It's important that any changes you make when filing an amendment are valid changes.
Just filing an amended return is not automatically a red flag for an audit although some changes are looked at by the IRS more closely than others. For example, it may be more risky to claim additional entertainment or travel expenses.
For those who have omitted income from a return, you need to file a Form 1040X as soon as you're aware of the error. You should be aware that you might owe more in interest, taxes, and even penalties. It may be a good idea to have a professional properly present any previously omitted items. No matter what reason you have for filing an amended return, it's imperative that you keep good records to corroborate the reasons for the change.
When the changes of your amended return result in the IRS owing you a refund, you will receive a refund with interest. However, if you owe the IRS, your payment should be included with your 1040X. The IRS will send you a bill for any additional interest you may owe.
At Summit CPA we offer multiple resources to assist you with your tax and financial planning needs. Contact our office at 866-497-9761 to schedule an appointment with our advisors.