When you are trying to start a new business, a bank is not always an option. However, there are a variety of financial alternatives available for small businesses. Here are some examples.
* Small Business Investment Company Program. The SBICP fills the gap between the availability of venture capital and the needs of small businesses that are either starting or growing. Licensed and regulated by the Small Business Administration (SBA), SBICs are privately owned and managed investment firms that make capital available to small businesses through investments or loans. They use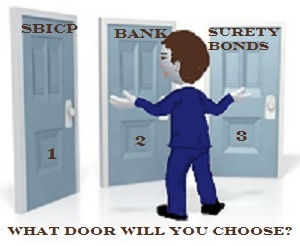 their own funds as well as funds obtained at favorable rates with SBA guaranties and/or by selling their preferred stock to the SBA.
** SBICs are for-profit firms whose incentive is to share in the success of a small business. In addition to equity capital and long-term loans, as well as providing debt-equity investments and management assistance.
** The SBIC Program provides funding to all types of manufacturing and service industries. Some investment companies specialize in certain fields, while others seek out small businesses with new products or services because of the strong growth potential. However, most consider a wide variety of investment opportunities.
* Surety Bond Program. By law, prime contractors to the federal government must post surety bonds on federal construction projects valued at $100,000 or more. Many state, county, city and private-sector projects require bonding as well. The SBA can guarantee bid, performance, and payment bonds for contracts up to $1.25 million for small businesses that cannot obtain bonds through regular commercial channels. Bonds may be obtained in two ways:
** Prior Approval. Contractors apply through a surety bonding agent. The guaranty goes to the surety.
**Preferred Sureties. Preferred sureties are authorized by the SBA to issue, monitor and service bonds without prior SBA approval.
If you are considering alternative financing for your small business contact our office at (260) 497-9761to schedule an appointment with our advisors.