Right now the economy seems to be going strong. Businesses are booming and some can't seem to find enough employees to fill all the jobs. But, are you prepared for a downturn in the economy or a natural disaster? There are many things that could bring your business to a slow down or even to a halt. Fortunately, taking time for some advanced planning while things are going great may prevent or alleviate many issues that may arise. Below are 7 common scenarios you should plan ahead for, no matter the size of your business.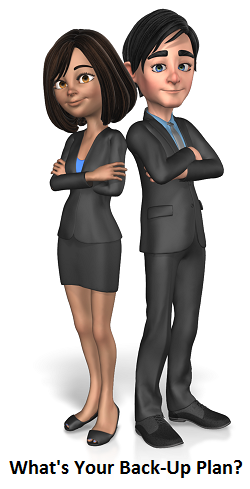 Natural disaster

. We can't control Mother Nature. Damage to your business due to a natural disaster could shut your business down temporarily or completely, depending on the damage. This could have a disastrous effect on your bottom line as well as your employees. Be sure you have adequate insurance coverage and that all of your valuable business data is stored at a secure site. Thanks to technology, there are multiple ways to store and secure your data.

You lose a key employee

. There is a lot of competition to hire the best employees possible. There's always a risk of losing one of your top employees to a competitor, especially an unhappy employee. You might avoid this possibility by having your key employees sign a non-compete agreement. Generally, such an agreement will prohibit an employee from working for a competitor for a certain time period.

An employee embezzles company funds

. Most employees are very trustworthy. However, as much as you want to believe you did a great job hiring trustworthy employees, no business is immune. You can safeguard your assets by paying close attention to all monetary transactions. You should also set up a "check and balance" system. Divide responsibilities so that one person doesn't have complete control over your accounting.

You lose your biggest Client

. Do you have a plan in place if you lose a major client? Don't put yourself in the position of depending on just one or two accounts. Take steps now to diversify your business to protect against a severe downturn in your cash flow.

You become disabled

. If your services are integral to the company's success, your fortunes will likely suffer should you ever become disabled. Consider taking out "key-person" insurance that can provide funding until you're back on the job or the necessary provisions are made. Such a policy may also cover employees who are vital to the operation.

The business or partnership splits up

. Even relatives and the best of friends should develop contingency plans for a business break-up. The sale of a party's interest, including a forced sale upon the death of one of the shareholders or partners, may be addressed in a buy-sell agreement. This document could establish the terms of a buy-out and set a value for the

respective business

interests.
Your computer system crashes. In today's world of technology, a business relies heavily on technology to run more efficiently. You can well imagine the repercussions if your computer system fails or it is damaged by a virus or hackers. Have a plan that provides optimal security and creates regular back-ups.
It's never too early to get your backup plan in place. At Summit CPA we offer multiple resources that will help get your business on the right track. Contact our office at 866-497-9761 to schedule an appointment with our Virtual CFO.