The New Year symbolizes new beginnings. It's like writing a new book with 365 blank pages to fill up and you get to fill in the pages. A lot of people will be making their new year's resolutions. One of the most popular resolutions is to lose weight and get healthy after eating all those holiday goodies. Or, maybe you want to put together a budget so that you can pay down debt. Whatever your resolution may be, if you make it realistic, you're more likely to be able to keep it.
It's no secret that 2020 has been a tough year for everyone. There's literally no one who hasn't been effected by COVID-19 in one way or another. Rather than focusing on the bad in 2020, focus on the good things. For instance, families were able spend more quality time together, we learned how important zoom has become, not just for school, but for families to stay in touch. We've also learned a new appreciation for all of our essential workers, including many that we never thought of as essential, and last but not least, a vaccine was developed.
There is a light at the end of the tunnel in 2021. It's a New Year and a new slate. But, we will still need patience and take extra precautions to avoid this awful virus. But the good news is...vaccinations are on the way in the New Year,
The Staff of Summit CPA wishes everyone a very happy, healthy, safe, and prosperous New Year!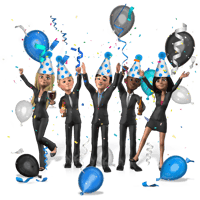 Our office is closed today but will reopen for business on Monday, January 4th. If you need assistance, contact our office at (866) 497-9761 and leave a message. We will return your call as soon as possible.