In the last year or so the price per gallon of gasoline is down. The lower prices have not gone unnoticed by the IRS. In 2017 the reimbursement rate for business mileage will be lower as a result of the lower gas prices. The 2016 rates are 54¢ per mile. The new rates for 2017 will be 53.5¢ per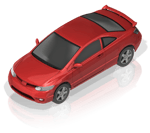 mile.
Mileage rates for moving and medical will also decrease. Effective January 1st the standard rate for 2017 will be 17¢, down from 19¢ in 2016. The charitable mileage rates will remain the same, at 14¢ per mile.
At Summit CPA we offer multiple resources to assist you with all of your tax and financial planning needs. For more tax tips contact our office at 866-497-9761 to schedule an appointment with our advisors.