Ready or not, the holiday season is here. Not only will the airways be crowded but it's predicted that with the prices of airfares and gasoline, the highways will very heavily traveled this year as well. Everyone will be rushing to get to their destination to spend time with family and friends. There's nothing better than great company and delicious food.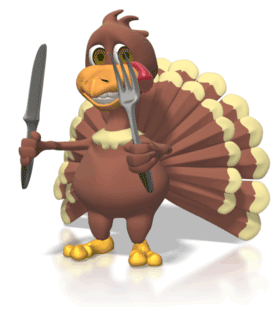 Thanksgiving began with a feast in celebration of a good harvest in, 1621. Though it wasn't until 1863, right in the middle of the Civil War, that President Abraham Lincoln declared Thanksgiving a national holiday. Years later, on December 26, 1941, Congress and Franklin D. Roosevelt, signed a joint resolution, making the fourth Thursday in November the "official" date of celebration for the holiday.
The holiday visits and traveling can be quite stressful on everyone. However, they don't have to ruin what should be a great time. How can you make the holidays less stressful? Leave early enough so that if there are weather related issues or traffic jams somewhere, you can still get to your destination on time. Another tip that will help to make your holiday fun and relaxing is to steer clear of subjects like politics, religion, and refrain from bringing up past grudges. Equally important, be sure to give thanks to your hosts, all the great cooks, and don't forget the clean-up crew. You may be pleasantly surprised how many good memories you'll have when you return home, so take lots of pictures too.
Our office will be closed today Thursday, November 24th and Friday November 25th so that we can make fond memories with our own families. The office will re-open on Monday, November 28th. If you need contact us you may leave a message at (877) 605-8353, and we will return your call as soon as possible.
The staff of Summit CPA Group wishes everyone safe travel and a very happy Thanksgiving.