Soon it will be time to flip your calendars to a new year. Where-oh-where did the time go? It seems like time passes faster each year, doesn't it? A new year brings the possibilities for a fresh start. Out with the old and in with the new.
You may be going to a party or just watching the ball drop in Times Square in the comfort of your home, chances are you will resolve to do something different in the coming New Year. Unfortunately, the fact is, even with the best of intentions, most of us will break our resolutions before the month of January is over. It doesn't matter if you resolve to quit smoking or lose those extra holiday pound, unless you are truly determined, old habits are hard to break.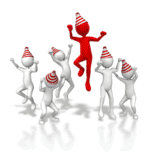 Resolve to make this year different. The number one reason that we break the resolution is because we set our goals to high. Start by making more realistic resolution goals that you will be more likely to keep. It's a great time to start that new diet and work-out program to lose those extra holiday pounds. Perhaps, you've decided to give your CPA a break and keep better track of all you receipts and documents so you're are ready when tax season begins instead of waiting until the last minute. Maybe last New Year's Day, you resolved to join the Polar Bear Club and jump into a freezing lake. If you keep that resolution be sure to have your wing man/woman standing close by with a nice big warm, blanket waiting when you get out of the ice water.
Our office will be closed Thursday and Friday, January 1st and 2nd, and reopen on Monday, January 5th, so that we can enjoy New Year's Day relaxing and watching a game or two on TV while visiting with family and friends. In the meantime, you can contact our office at (260) 497-9761 if you need assistance. Just leave a message and we will get back with you as soon as possible.
The Staff at Summit CPA Group would like to wish everyone a very safe, healthy, and prosperous New Year.