In 2014 you will notice that your equipment write-offs will decrease. In recent years, businesses could expense up to $500,000 of equipment purchases in the year of purchase, with a $2,000,000 annual purchase limit. In addition, bonus depreciation was allowed for new equipment purchases.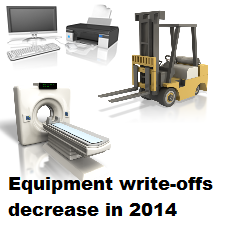 The reason for the "write off" decrease is that Congress did not extend these provisions for 2014. Therefore, businesses can now only expense $25,000 of new or used equipment purchases. The deduction is reduced dollar-for-dollar when total asset purchases for 2014 exceed $200,000. You will also notice that the 50% bonus depreciation that applied in 2013 is no longer available. Congress may or may not extend these provisions at a future date.
Be sure to check for any updates to this provision when you decided to make any equipment purchases this year.
Tax rules and laws change frequently. Contact our office at (260) 497-9761 to schedule an appointment with our Tax Advisors to insure that you are taking full advantage of any tax breaks you may be eligible to receive.