Our 401k audit process is extensive, and we offer competitive flat-fee pricing.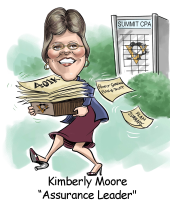 An incomplete, late, or inadequate 401k audit report may result in significant penalties and plan termination.
401k audits are our specialty. Let's see if we can help!
Complete the form to request a free, 30-minute consultation with our 401k audit expert, Kimberly Moore.
During the call, you'll:
Learn if your company is required by law to have a third-party firm like us audit your 401k plan.
Chat with us about your 401k plan, and any unique questions you may have about your audit, what's required, and how all this works.
Learn how our turnaround time can be as little as three weeks, and what documents you would need to gather to get started.
Some common questions we get:
How much does a 401k audit cost?
What do you need from me to get started?
Are you Indianapolis Colts fans?
We take pride in our flat-fee pricing and that we offer one of the lowest 401k audit prices in the business.
Fill out our form to the right, or if you're available right now, give us a call at
(866) 497-9761

.